September 17, 2016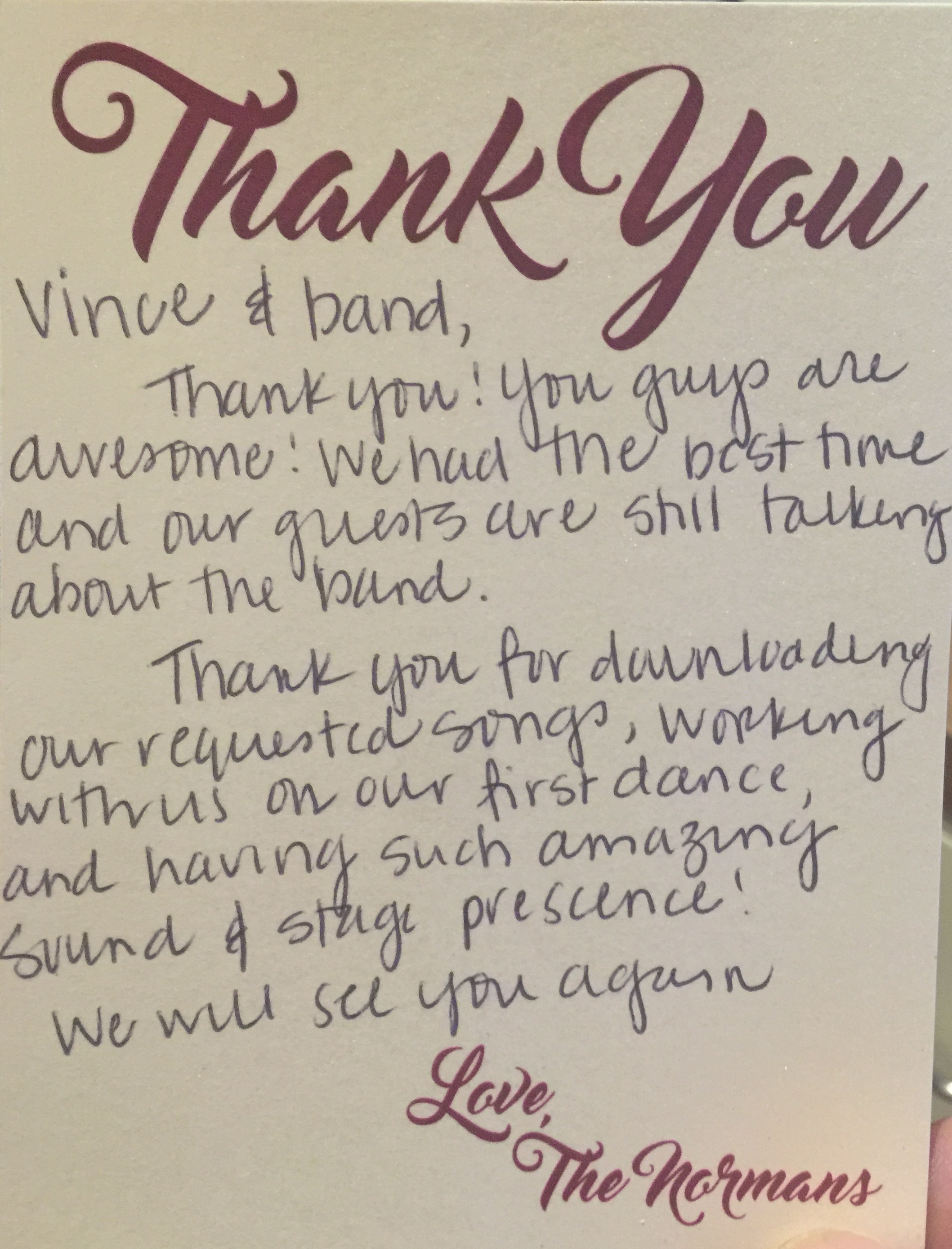 ---
April 16, 2016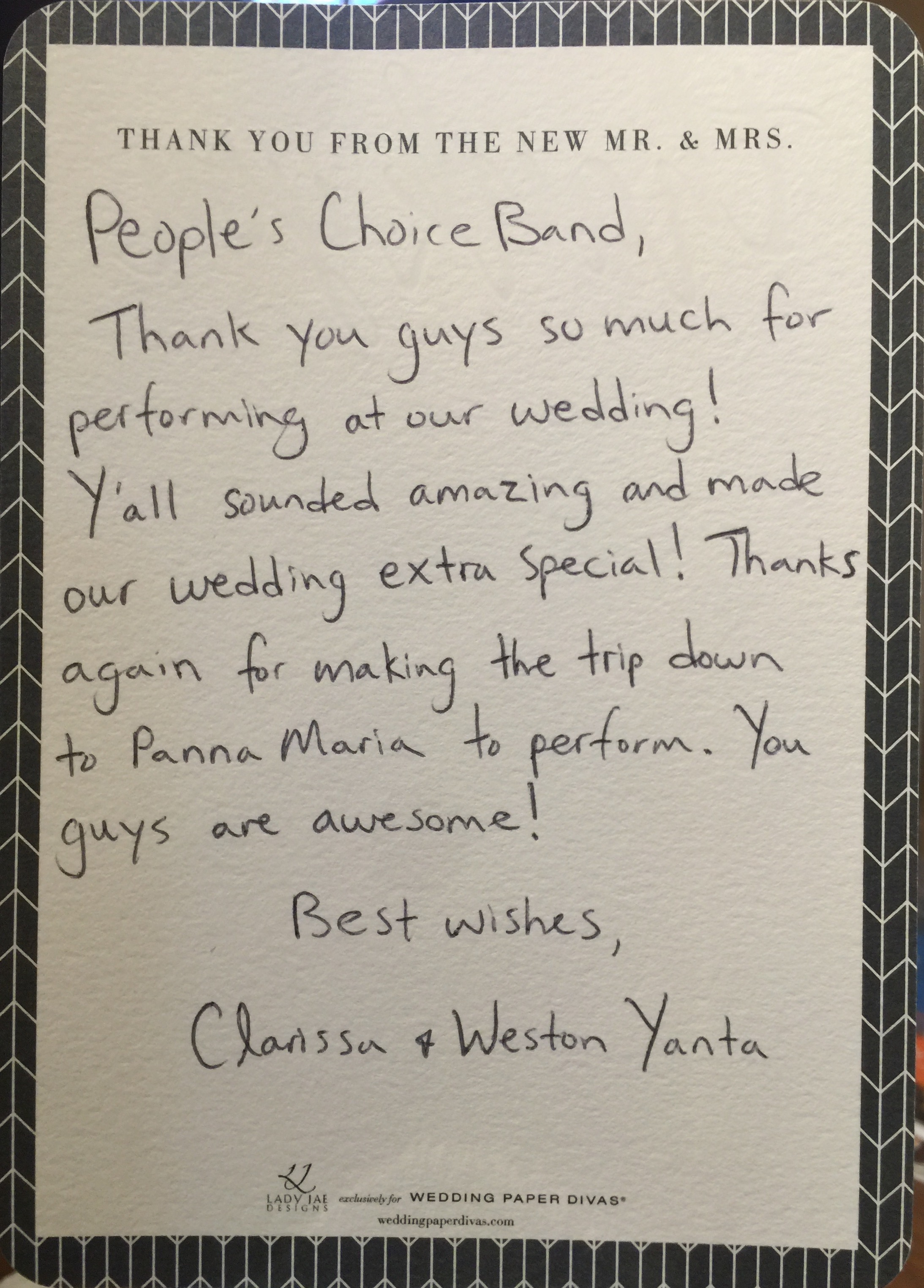 ---
January 25, 2016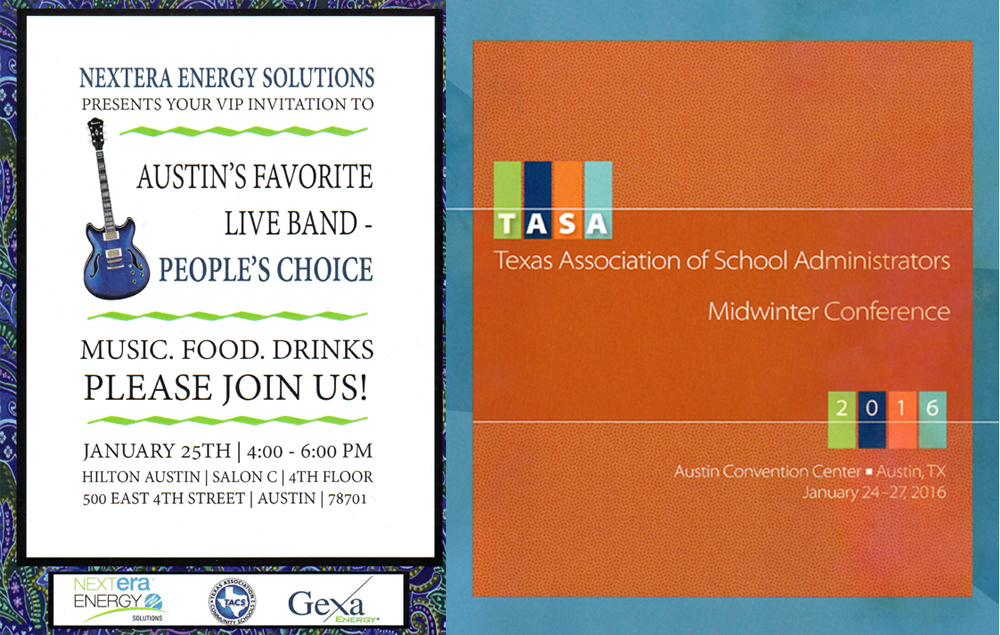 ---
November 15, 2014
Good morning Vince!
Just wanted to send a huge Thank You to you and all the band members!! You guys were amazing and every song that was played throughout the evening was just perfect!! From the moment we walked into Soiree until our final exit, the music was always just right and made the reception so exciting and special for us. I know Jonathan and I had a great time along with the rest of our family and friends!! Once again, Thanks! The People's Choice Band will be on the top of our list for recommended bands!!
Kelli
---
September 27, 2014
What a fantastic band!! People's Choice Band did a great job!! We appreciated everyone dressing the part and choosing a perfect lineup of music for our 1920's themed wedding. I think they covered every type of music and kept people on the dance floor all night!!
Kelly
---
September 20, 2014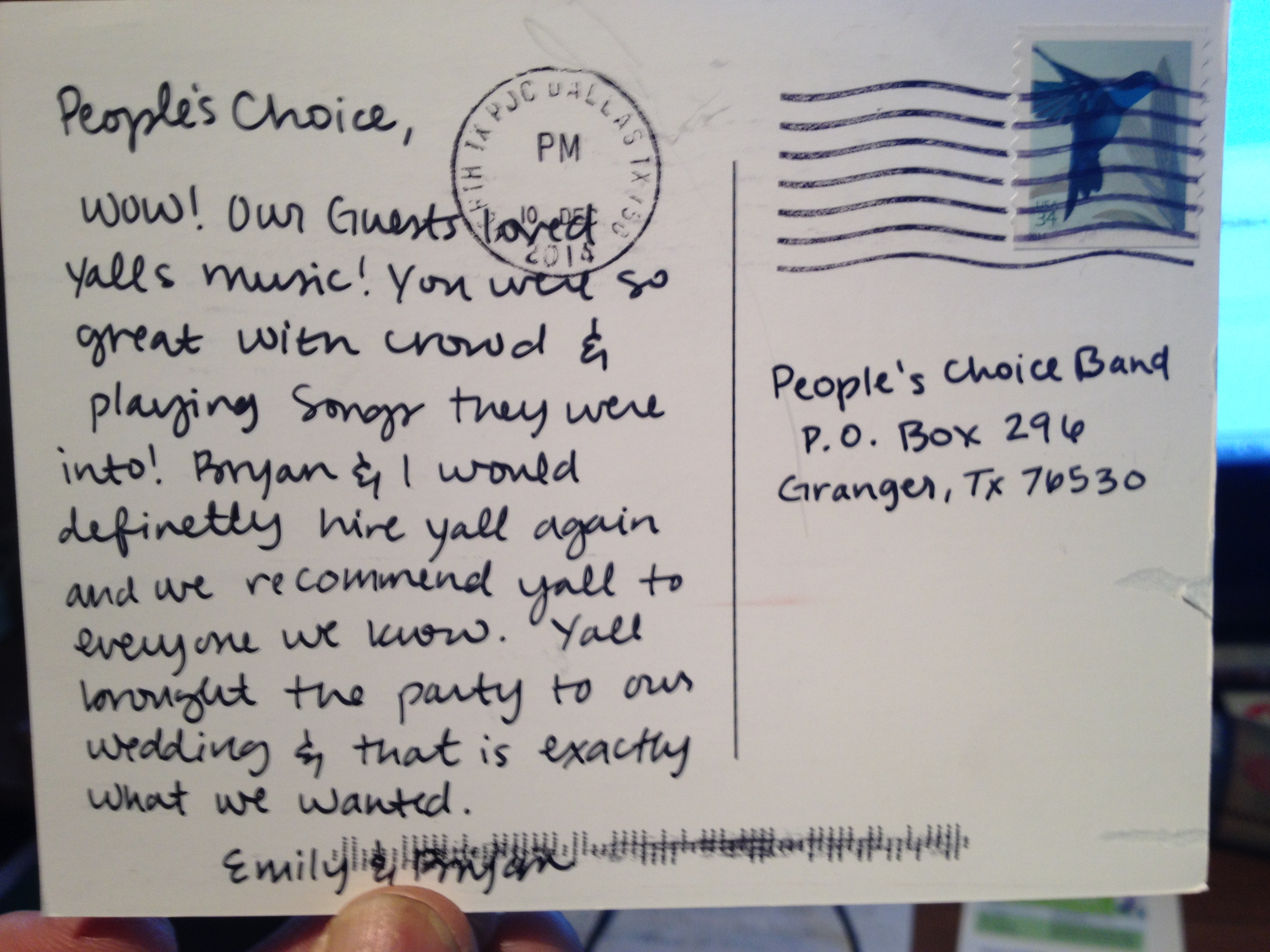 ---
May 2, 2014
Good Morning: Bruce, Lexie and I would like to express our appreciation and gratitude for the wonderful band that you recommended for Lexie's party. Everyone, including the kids and adults had a wonderful time and enjoyed the music. People's Choice Band was a perfect fit with our audience and event and we look forward to hiring them again for our next big party!
Reagan, Vince and company did everything imaginable to ensure that our guests had a rocking great time!
Everything was perfect and again, we all thought the band was superb!
Sincerely,
Bruce, Susanne & Lexie
---
June 1, 2013
We heard many compliments about the band! Only complaint: didn't get to hear you long enough as the event center was making us shut down! Maybe we will get to hear you somewhere else. Thanks also for your prompt and courteous responses to all of our questions during the planning phase. Several bands that we spoke to prior to yours were not. Thanks for helping make our celebration so successful. Nan
---
May 4, 2013
Hi Susie and Barbara,
I just wanted you to know how much everyone LOVED both The People's Choice Band and DJ JBlue2! They were both HUGE hits -- even the parents were dancing to the band (who couldn't have been friendlier) by the end of the evening!!
I gave y'all full credit for sourcing our great music!
Thanks for helping me once again!
Best,
Tiffany - In partnership with: Gulf Coast Entertainment - Houston, TX (Susan Criner)
---
April 20, 2013
Thank you SO much for yesterday, I can't tell you enough how great the band was. Everyone was thrilled, they loved all of the songs, the flow of the night, and the personality of all of the band members. As you can tell, the dance floor was literally packed all night, we didn't have a shy person out there!! I had an absolute blast, my feet are being elevated and iced down as I type this email. lol
Thanks again, I will definitely make sure to recommend you guys to anyone in the area.
Ya'll were awesome!!! (please let everyone know). - Shannon
---
September 21, 2012
We have used People's Choice many times and they are always a huge hit with our clients. They are professional, arrive as scheduled, and always put on a fantastic show! - Penny
---
September 17 , 2011
The People's Choice Band did an outstanding job! Attendees of all ages complemented me on the band. They did a great job of playing all the songs that we requested from the standard set list as well as the new songs they had to learn for the Mother/Son and Father/Daughter dance songs. They were flexible with their schedule and were willing and able to make minor adjustments as needed. They had the dance floor packed until the very last song and truly seemed to have a good time.
We were extremely satisfied with them and would recommend them to others. Thank you for all your help.
Sincerely,
Jon R. (contact info available upon request) - In partnership with: Gulf Coast Entertainment - Houston, TX (Susan Criner)
---
May 14, 2011
Very professional band with a large varied song list. The dance floor was never empty and they were wonderful in helping to time the wedding reception events. They were very accommodating in the planning and helped set up a wonderful night. These guys are pros and worth every penny! -- Jane M, Austin, TX, 5/14/2011 Web Link
---
December 11, 2009

A big THANK YOU goes out to you and the band for an outstanding performance! I heard so many good comments about the music that you guys played. The volume level was perfect, people told me that they could still talk to the people around them without screaming. We decided to branch off this year and select a dance band versus a show band and it truly paid off. I could not get over how many people stayed until the end. In all of my 12 years of working with this company, I've never seen people dance that much at the party. Everyone seemed to have a wonderful time. Please tell the band Thank You and I look forward listening to the band perform at the Agents Conference next month in Austin.

Thanks again!!!
Kim
---
July 4, 2009
Thanks for a great show!!! I have heard nothing but compliments about the band.
Thanks again,
Kathy
---
December 27, 2008
I wanted to let everyone know that you guys were amazing and everyone was raving about how much they liked our band. I will definitely recommend you to any of my friends getting married in the future.
Thank you for helping make our wedding day perfect.
Private/Waco
---
October 20, 2008
Dear Vince & Band,
On behalf of the Canyon Ridge Middle School PTA, I would like to thank you again for playing at our fall Pep rally and BBQ on Monday. You guys were wonderful and everyone enjoyed the music. We really appreciate you helping us out.
Thanks again, Fran & the PTA
Private / Steiner Ranch
---
April 12, 2008
Hi Vince, I just wanted to thank you for a great job Saturday Night. Everyone enjoyed the music. The Marriott hotel ask me for your info, they would like to add you to their preferred vendor list, if its ok with you.
Thanks again.
Private Party HSB
---
December 8, 2007
I've heard lots of great feedback about the holiday party and the band.
Thanks for the part you guys played in making this an outstanding event.
Cheryl
Private / Corporate
---
September 29, 2007
I just wanted to say thank you to you and the other members of People's Choice for the great job that you did at the wedding. Y'all were a huge hit and we truly enjoyed having you.

Thanks again!

Tribou Wedding
---
September 1, 2007
Thanks to you and your band for the incredible music on Saturday night. The sets were a perfect mix, and the music sounded great.
You helped make my parent's anniversary party a perfect evening for them.
Wehrle Anniversary
---
March 29, 2007
Jake and I really enjoyed getting to see you again at Rockdale this past Friday. We have really missed having you at The Ranch in Buchanan Dam. You are as great as ever and still our favorite band to listen too and especially to dance to.
Have a great Easter.
Carol
---
February 1, 2007
Hi Rockers,
We've finished our first season with great memories. Those who attended our February 1st dance discovered a real treat....the People's Choice Band . I heard from several that this was the best band they'd ever heard play in Lakeway. We could tell by the number of couples on the dance floo r!
Thanks from your Rockin' Dance Club committee.
---
September 4, 2005
Vince and People�s Choice�
We�d like to thank you for making our wedding wonderful! Everyone had a great time and the music was fantastic. It was such a pleasure working with such an easygoing and professional group. We will definitely pass your name along to others!
Thanks,
Megan and Charlie Wesley
September 4, 2005 Wedding
---
April 8, 2005
"Thank you so much for a wonderful performance." From what I heard, Peoples Choice had the largest crowd in history, also the only band that had people dancing in the streets. Thank you!
Sabrina Preiss,
Radio Hill Country (Burnet Bluebonnet Festival)
---
September 18, 2004
Thanks for making our wedding a very wonderful time!
Bevil Wedding
---
October 17, 2003
...on Friday night. I know that our timing was not very good this year. We were running late all night. Thank you for staying a little while longer for my "die hards". I truly appreciated the band, and I know that the enthusiastic participation on the dance floor is a tribute to your group's fabulous set of talents and wide repertoire.
Myra S. Schomburg
3M Austin Community Affairs
CM&PA
PH: 512-984-6221
FAX: 512-984-3369
0130-05-N-34B Cubicle
0130-05-N-07 Mail Stop
---
August 23, 2003
Vince,
We just wanted to thank you guys for playing at our wedding at the Radisson
Resort Hill Country. Everyone loved you guys and really enjoyed themselves
dancing on the dance floor. Thank you and take care.
Kelly - McKnight Wedding
---
April 19, 2003
You guys are the tops! Great music! Wonderful people to work with. We hope you have continued success.
Chapel Wedding
---
August 9, 2002
Guys, you were great! Thank you for making our people have so much fun! Love it!
Myra - 3M
---
May 18, 2002
Ya'll are awesome! Thanks for making our day so special. Best band in the land! Great job.
Kudela Wedding
---
April 12, 2002
You all are the greatest band ever! We love you guys! Thanks for making our party complete.
Valerie & Vanessa
---
February 1, 2002
Thank you for another great performance at our party Friday night! Everyone really enjoyed the music and the dancing, and I appreciate your trying to accommodate my last minute changes. Thanks again for helping make our party a success!
Mary - The Porter Company
---
January 19, 2002
What a great band! You all made our party a success. We had a great time. Thanks again.
Cinda - American Board of Trial Advocates
---
December 28, 2001
Great Job! It's little wonder that our employees rate your band at the top of their list!
Jeff - F.D.L.I.C.
---
December 15, 2001
The Best! Great Music! We could not have made a better choice that People's Choice.
Pervasive Software
---
December 1, 2001
Thank you so much for entertaining our company Christmas Party. It was a great party and we are so happy that your band was there.
Your friends at Texas Commercial fence
---
October 27, 2001
Awesome! Great music! We didn't want them to stop. Very good selection and very receptive to our needs & wants.
Caropepe Wedding
---
September 20, 2001
The band was great!! The people, great to work with. We'll see you again!
Karen - Valley View Elementary School Benefit
---
July 21, 2001
Thank you for a perfect band for a perfect wedding!
The Carter - Spuiele Wedding
---
June 16, 2001
What a great dance that helped make a great wedding!
Thanks,
Cynthia
---
June 2, 2001
These guys rock! And yes, you can call me for a recommendation!
Thank you sooooo much!
Kari
---
May 19, 2001
This is the greatest band ever! We couldn't get the guests to go home. Thanks for making my daughter's wedding a fabulous event!
Becky
---
April 2, 2001
To the guys in People's Choice:
This is the 10th year you have played for the T.S.A.A. annual conference. You are like part of the family. You are all so talented and a "Class Act". It is such an honor to have you as friends.
I love you,
Marcia
---
March 3, 2001
Thank you so very much for a wonderful, fun reception! You are all wonderful and made our special day unforgettable! Thanks, and I will pass your name to everyone I know. Shawn
---
(This letter was sent to the agent)
Nancy (Agent):
This not is long overdue, and I apologize for the delay, but I wanted to thank you again for booking " People's Choice" for our daughter's wedding reception on March 3rd! They did an incredible job and are very talented group. Our guests certainly enjoyed dancing to their music! Thank you again for helping make our reception such a special and fun occasion! Gratefully, Penny
---
December 15, 2000
You guys were great! You played a little of what everybody wanted to hear. Hope you guys play at our next party! Sylvia, Service Electronics
---
December 14, 2000
Great time in 2000! Thanks, Gloria, Temple-Inland Bank
---
December 9, 2000
We love you! Cindy - Nucor Steel
---
December 8, 2000
You guys are great! We really enjoyed the variety of music you played at our Christmas party. Everyone had fun and enjoyed cutting the rug. Heather - Farm Credit Bank of Texas
---
December 2, 2000
Everyone had a great time! Great Band.
Always, Laura - Sandalwood Management
---
November 24, 2000
Thank you so much for playing at our wedding! You guys are great! I've been listening to you since my college days at Dessau Hall. Thanks again! Adam & Stephanie
---
November 18, 2000
We really feel special to have People's Choice share the celebration of our newly remodeled home. The music was wonderful and you really provided our guests with super entertainment. Homer & Mickey
---
October 20, 2000
Thank you so much for making the 25th Anniversary of the National Association of State Judicial Educators such a fun, wonderful and memorable celebration. Your music made our evening so special! Franny M. Maguire, President
---
September 16, 2000
People's Choice,
You guys are the best! Your hard work learning the songs made our night very special. People were crying while Sandra sang the song that Mim wrote! This was truly a "Beautiful Night". Misty & Justin
---
March 24, 2000
Dear PEOPLE'S CHOICE:
" I can not tell you how thankful we are that we chose you as our band for our reception, ya'll were incredible. The organization, the setup + lights, the sound , was exactly what I always dreamed of, it was beautiful. We can't thank you enough. Howard I appreciate you spending so much extra time with me the weeks before. And Stacey you looked and sounded great as usual. Thank you so much for making me feel like a princess of my special day. Hope to see you soon. Thanks again. Jennifer & Richard "
---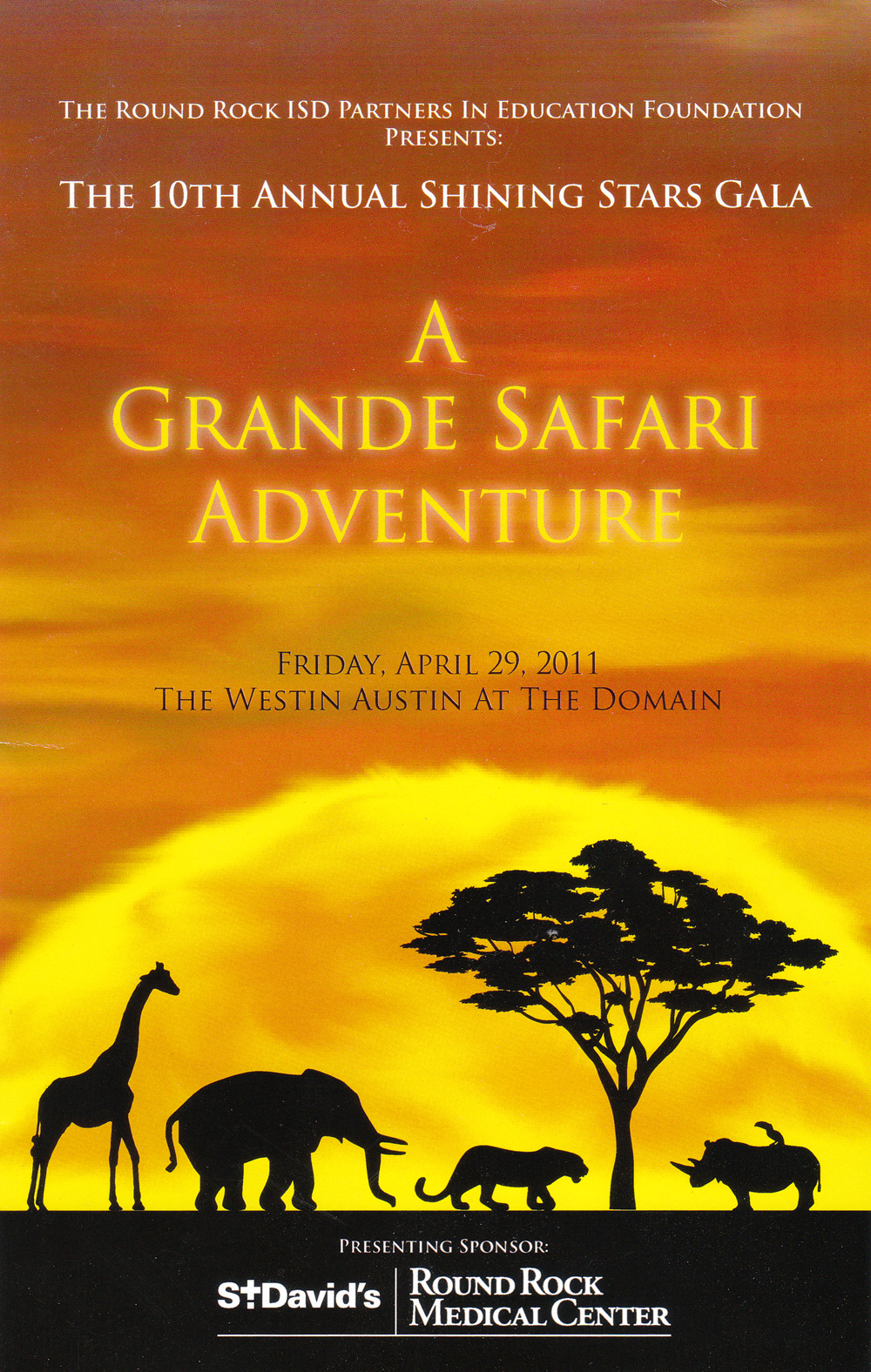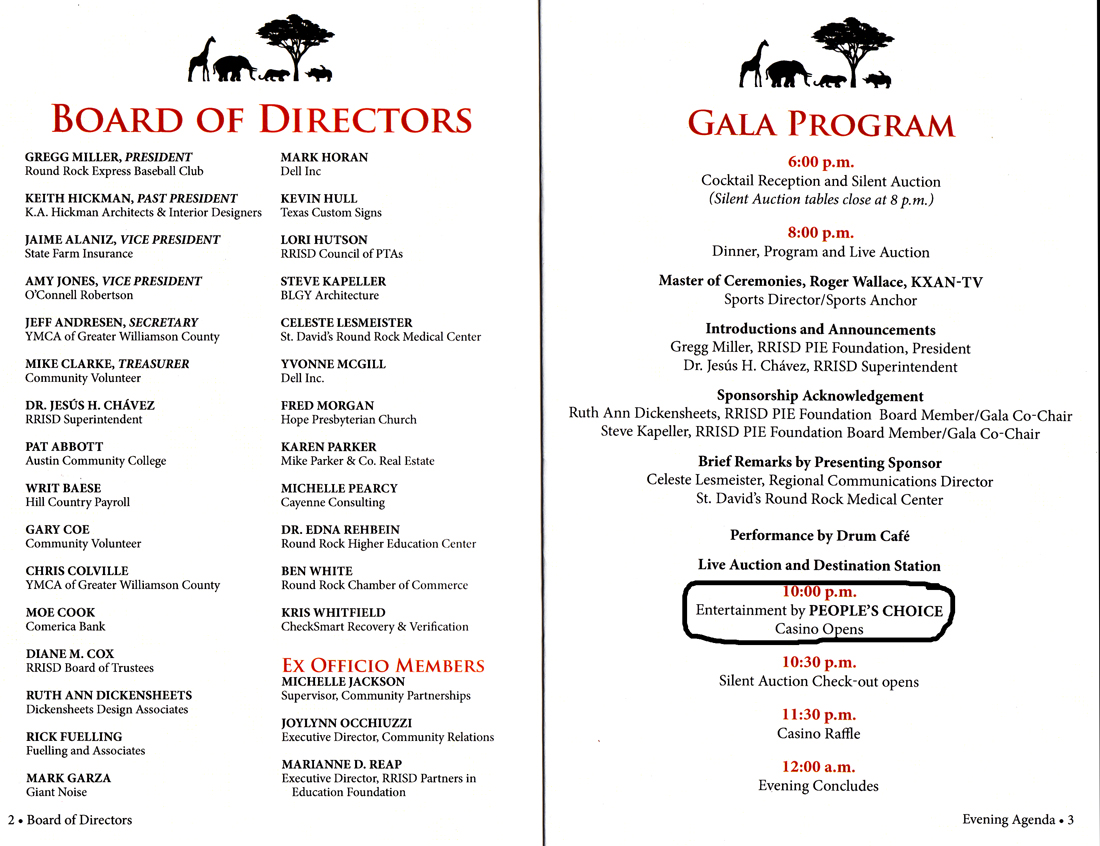 ---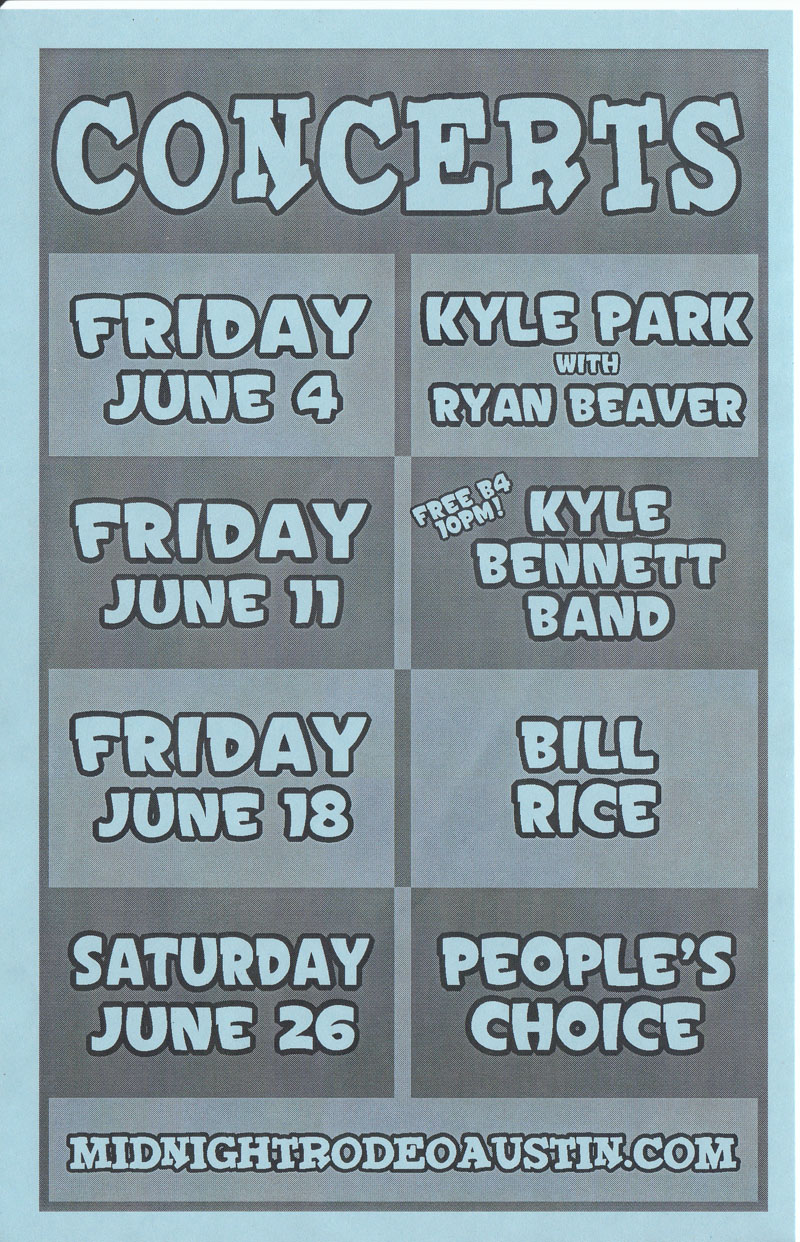 ---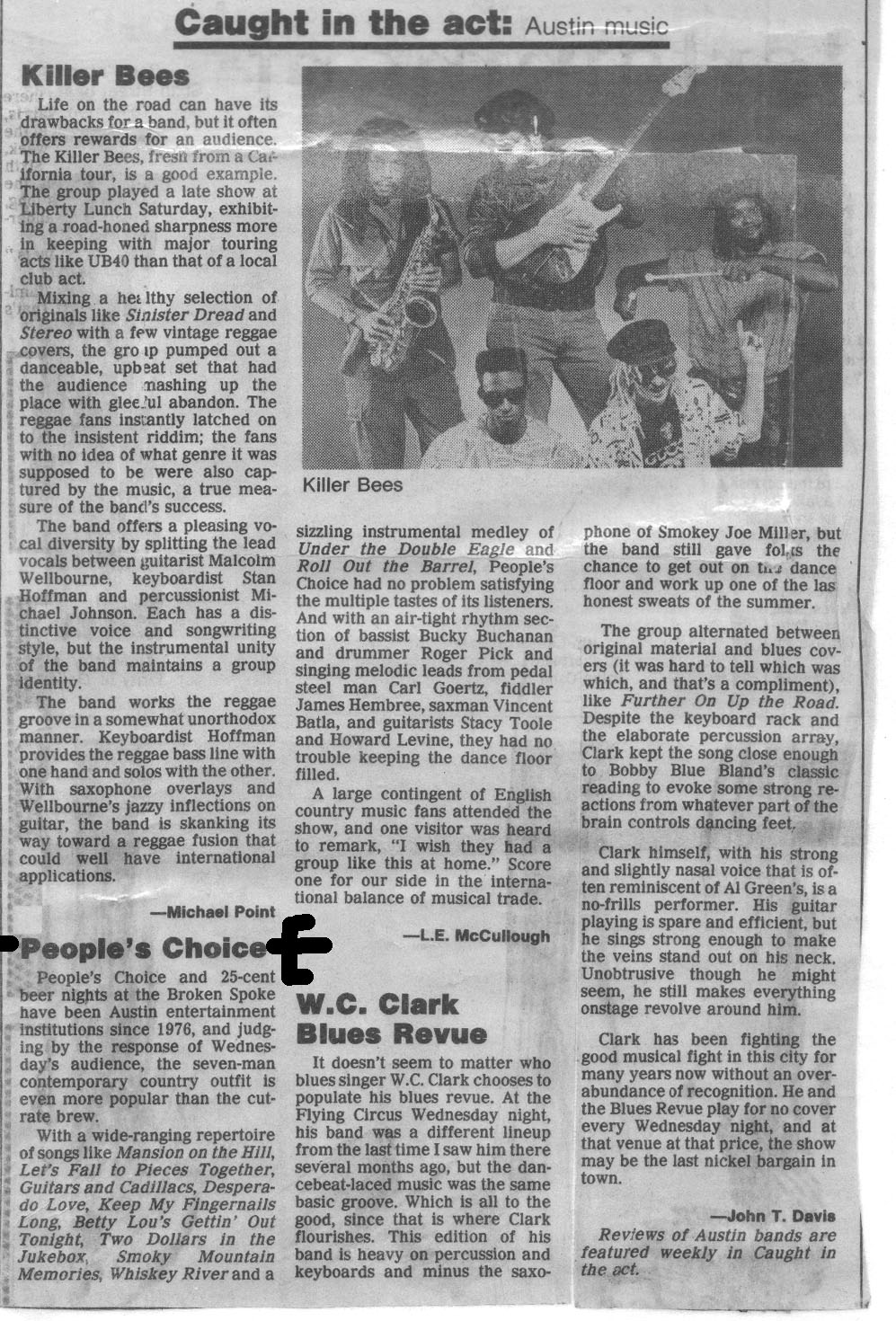 ---
---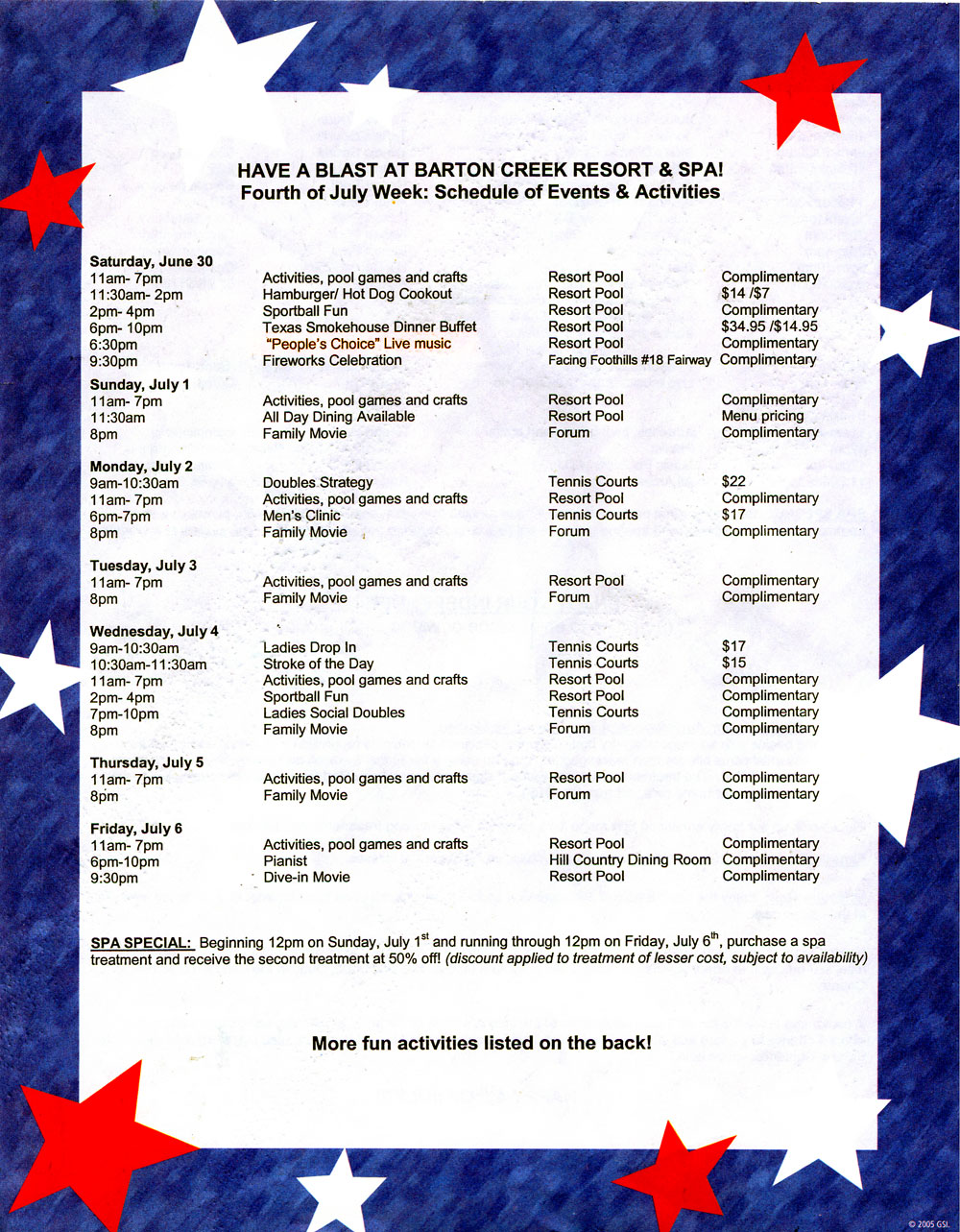 ---
---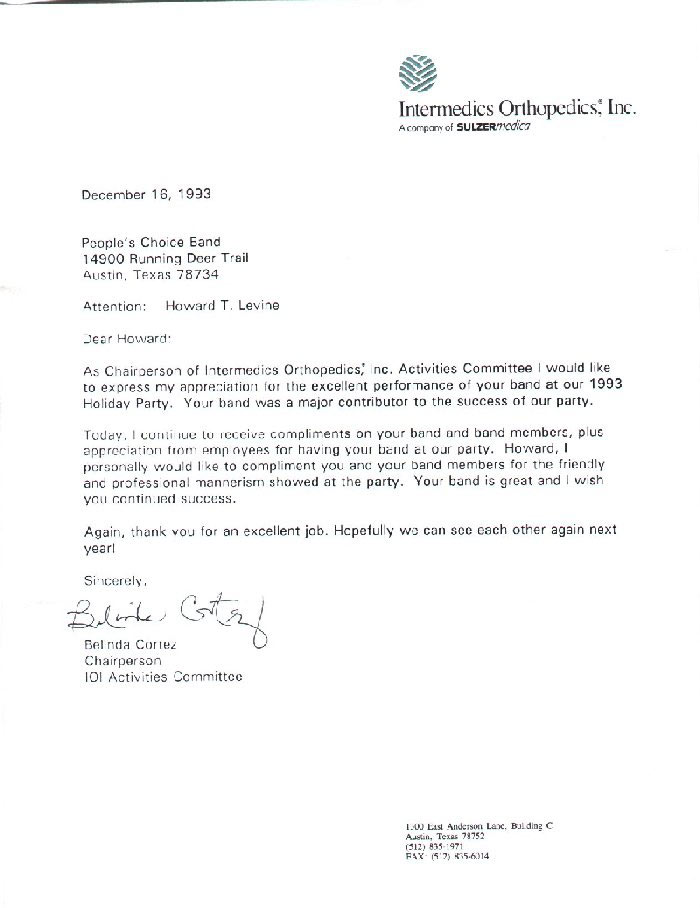 ---
---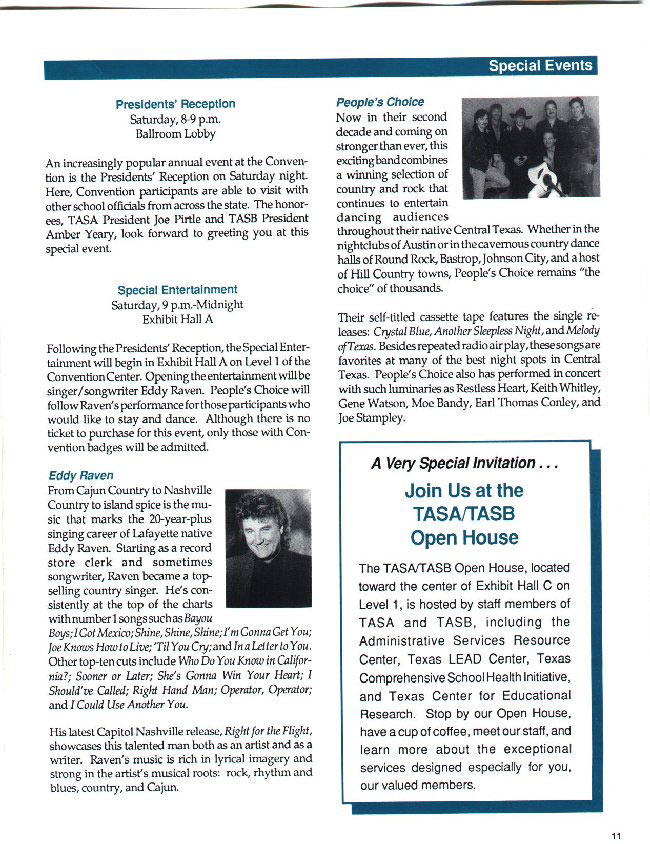 ---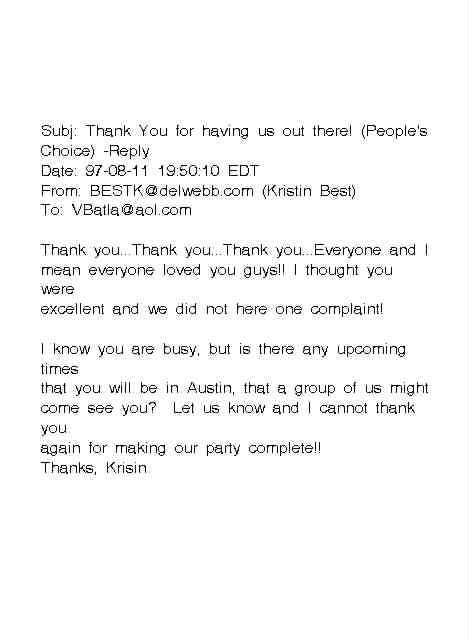 ---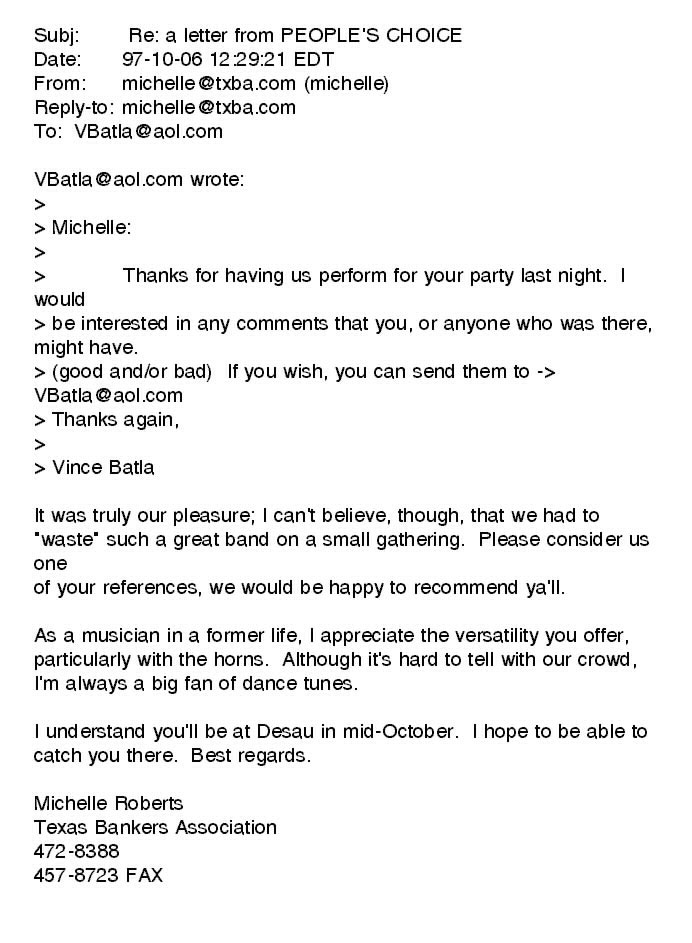 ---
---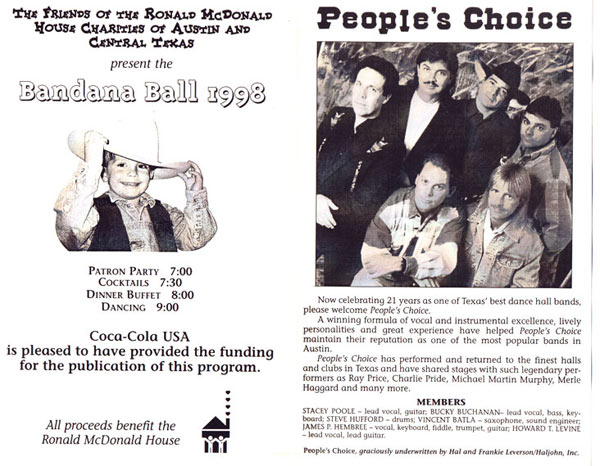 ---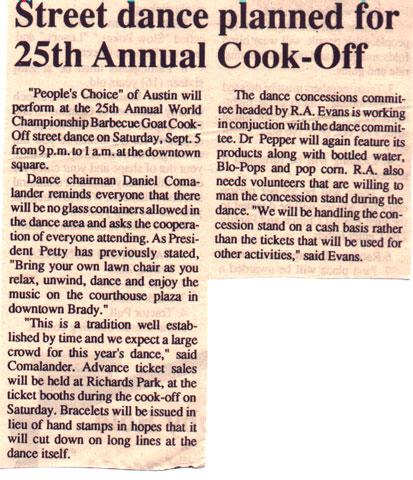 ---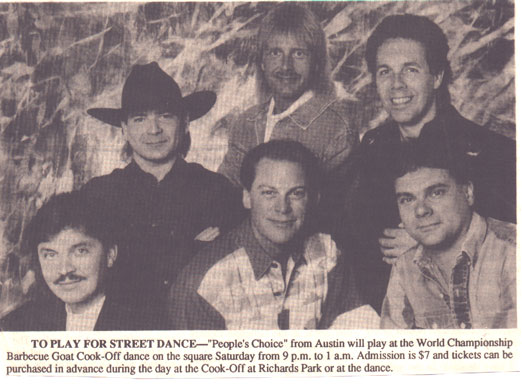 ---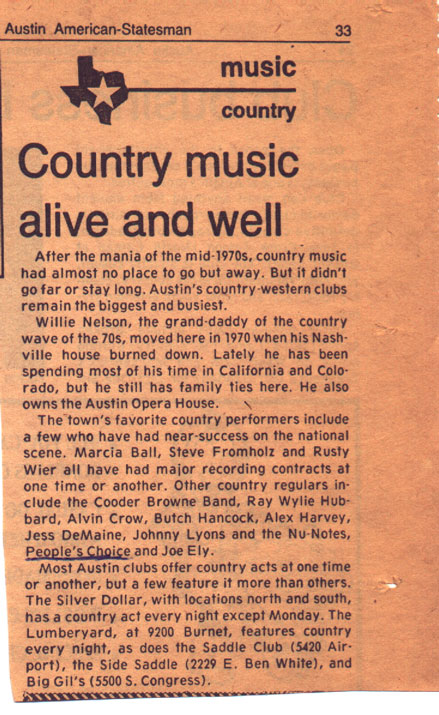 ---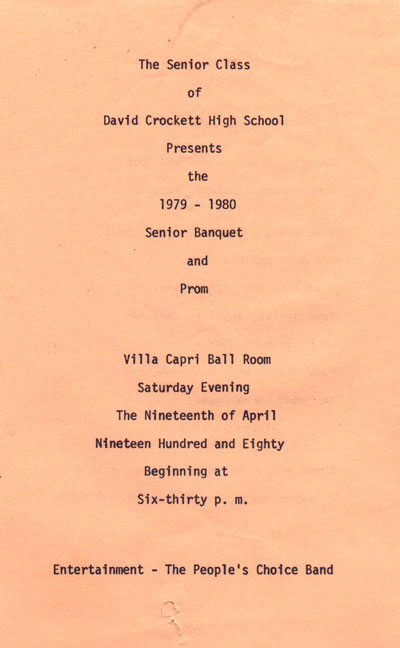 ---